Podgorica is the capital and main administrative, cultural, university and economic center of Montenegro. The population is about 162,000 inhabitants.
Podgorica is located at the river  confluence, in a valley, on the plain (which is not very typical for Montenegro). The city owes its name to several low hills that rise in its historical center, the largest  one is called Gorica.
In Podgorica, you can find a mixture of various architectural styles – a legacy of the turbulent history of the city and the country. Each reign left traces in stone. During the four hundred years of Ottoman rule (1474-1878), many buildings of Turkish architecture were built in Podgorica. The oldest parts of the city – Stara Varosh and Drach are built up with houses of this architecture – here you can find two mosques, a clock tower and narrow winding streets.
When Podgorica was acceded to Montenegro, the city center moved to the other side of the Ribnica River, where they started to build wide streets intersecting at right angles and European-style buildings.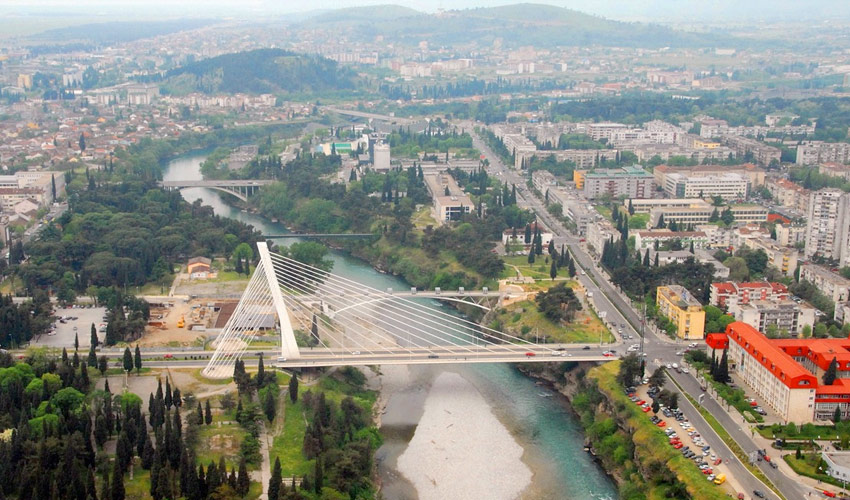 Around the 1990s, rapid construction began, which rapidly changed  the face of the city. Many modern houses and offices was built.
The city was decorated with new squares, parks and monuments. Separately, it is worth mentioning the Cathedral of Christ's Resurrection and the Millennium Bridge.
Podgorica is located in the central part of Montenegro. The area is wealthy  with rivers, and the city itself is located 15 km north of Lake Skadar. The rivers Moraca and Ribnica flow through the city, while Zeta, Cievna, Sitnik and Mareza are nearby. With the construction of the Sozina tunnel, the Adriatic Sea is only half an hour away.